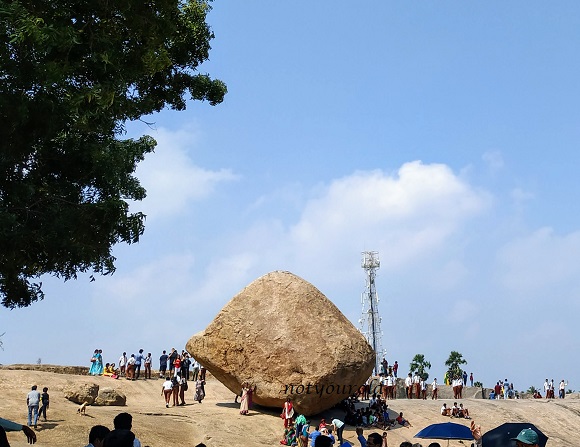 Mamallapuram's Mystery Of Krishna's Butter Ball
My recent amazingly short trip to Puduchery was like a dream. By the time I realised what was happening, the trip got over. It was a perfect example of living in the moments. Who wants a life long journey to be happy if just one moment filled with joy can keep one joyful throughout life.
When I checked places of tourist interest around Chennai, I read a name 'Mahabalipuram' which made me think of it as the place where there was that huge statue of Bahubali. I know that was pretty dumb on my part but as I didn't care about any place in particular,so didn't matter much but for the embarrassment of being stupid. Yes, memory sucks at times but whatever happens is always for good. (My belief system)
Anyways, I visited this place Mahabalipuram aka Mamallapuram on way to Pondichery aka Puduchery from Chennai. It is a coastal town on the Coromandel sea coast of Bay of Bengal, about 60 km south of Chennai in Tamil Nadu. Mahabalipuram belongs to the era of Pandavas and Mahabharatha. Now, that was enough to arouse my curiosity, since I had always been a Krishna lover.
A guide! Nope, not for me….
The cab driver dropped us nearby a point in 'Mamallapuram's Mystery Of Krishna's Butter Ball' and asked us to keep walking along the road to enjoy the various monuments. I decided not to hire any guide as I wanted to know about the places on my own. As it is, with a smart phone, working internet connection and Google Baba with you, who requires a guide. Believe me it was so much of fun roaming around the monuments and quickly cross checking the historical spots with google images. I just loved it. Much learning… Wow!
Mahabalipuram site has about 400 ancient Hindu monuments. I was really keen on seeing the 'Descent of the Ganges' or 'Arjuna's Penance' as those are one of the largest open-air rock reliefs in the world. Indeed those were really majestic with such intricate carvings that I felt so humbled watching the beauty and details.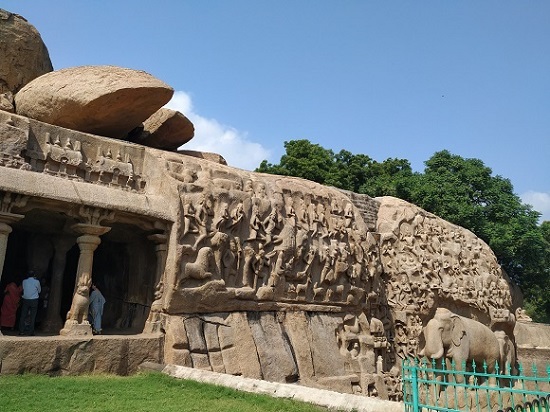 Once the monoliths part was done, I googled for what else interesting was there to see and suggestion was,'Krishna's Butter Ball'. Wow! this Mamallapuram's Mystery Of Krishna's Butter Ball sounded like a magical experience and an unsolved mystery since ages.
Krishna's Butter Ball in Mamallapuram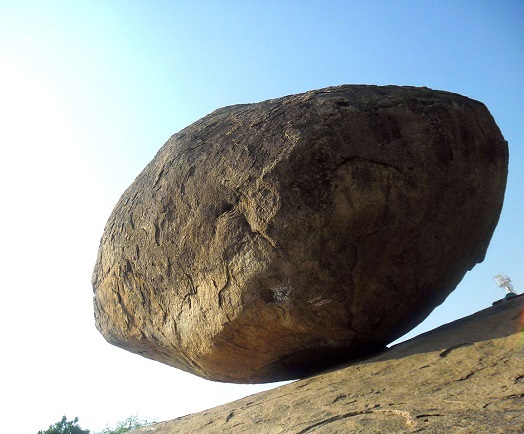 Can you imagine a massive 250 ton, 20 feet high, 5 meter wide boulder standing on a slippery sloppy hill on less than 4 feet base! That is 'Krishna's Butter Ball' for you. This rock's position is such that it looks like it will roll down the slope anytime but none seems to be afraid of the positioning of this boulder. When I reached there, I saw school children who had come on a picnic, resting and playing under it. According to some, this rock is heavier than the monolithic stones of Ollantaytambo and Machu Picchu in Peru.
In Tamil, Mamallapuram's mysterious Krishna's Butter Ball is called 'Vaanirai Kal' which means 'Stone of the Sky God'. Local story declares it as either put in that place by the Gods to prove their power and existence; or lord Krishna dropped a dollop of his favorite butter from sky.
Among many other myths woven around this boulder is one about the Pallava King Narasimhavarman. He was the ruler of South India from 630 to 668 A.D and the first one to make an attempt to remove this rock, since everyone believed that the 'heavenly rock' must not be touched by any sculptors. To everyone's dismay, it did not move at all.
Later, in 1908 Governor of Madras Arthur Lawley also tried to move it using seven elephants, without any luck.
This Butterball boulder became an inspiration behind the famous traditional art of 'Tanjavur Bommai', mud dolls which never fall down. These dolls are made on a half-spherical bottom which allows tilting without falling down.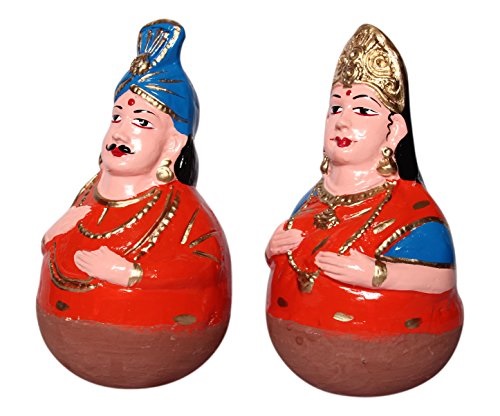 Refuting all the myths around the Butter ball are the experts who consider it as a natural formation created due to wind erosion. Okay, point taken, but, isn't it strange that while everything got destroyed by Tsunami, earthquakes or cyclones repeatedly over the years, here is a boulder called 'Krishna's Butter Ball' still standing firm, unmoved for almost 1300 years?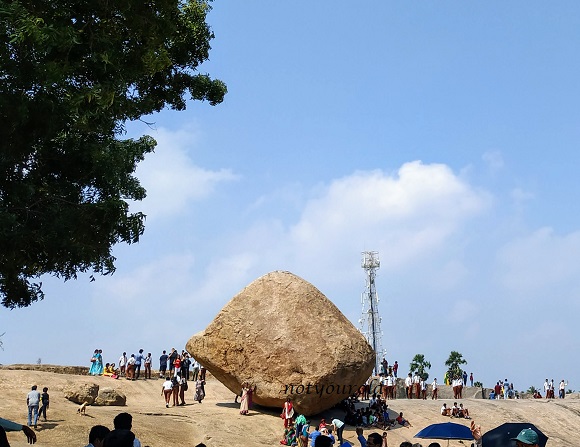 Mahabalipuram / Mamallapuram belonging to 7th and 8th century is a UNESCO World Heritage Site and if you are into ancient Indian architecture and rock / monolith carvings then Mamallapuram is a must visit for you.
Some shreds of my life are here too…