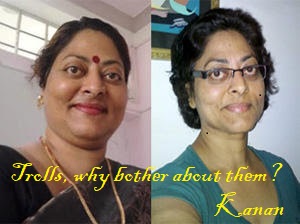 [the_ad_placement id="after-content"]Trolls, Why Bother About Them?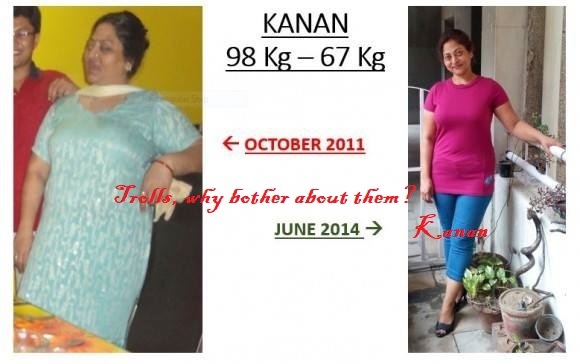 A health blog that had posted my weight loss story four years back, re-posted it on their Facebook page. A friend shared its link with me, opening which I found a few negative comments by unknown people. Another good friend also objected to the admin of that page regarding the negativity being spread. As a result, the trolls were deleted. 
I was trolled…
Trolls! yes, I was trolled about how "ugly" I looked after the 30 kg weight loss. I was trolled for how I looked like a 60 year old after weight loss. Did it all trouble me? Well, frankly speaking, Not at all. I wasn't angry or pissed at all because the people who wrote those comments were judging me by my looks. They didn't know my story nor my motivation to lose weight. Whatever they had commented, I wasn't concerned as I didn't know them or their psyche.  The good thing about that post was that the site found my story inspiring enough to be re-posted. If interested, it can be seen here.. 'My story'.
Trolls, why bother about them?
The other day, I was watching television when a show on trolls caught my attention. The show was about cyber bullying  and focused on making trolls answerable for their behavior. 
Why do people get so bothered by trolls (unless of course they are life threatening ones)? Why do haters matter to people? Are we emotionally so fragile that a group of people, who are not even known to us in anyway, can make us look so vulnerable in front of the whole world?
There is nothing wrong in being emotional but are we not exposing our vulnerability by questioning trolls? Is it not a negation of our personal choices?  What we wear, how we decide to look, how we live, what we eat are all our personal choices which we have made due to one reason or other. Those are all our personal decisions which must never be affected by what others feel about them. Reactions against what people feel or say exposes our own lack of faith in our decisions.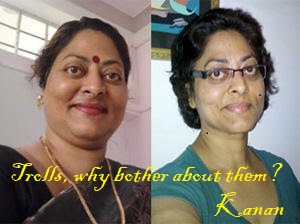 The strangers and their neurotic drama…
I love reading Dr Brian Weiss. In one of his famous books, 'Messages from the Masters', very aptly he has written…
"Often we take personally the slings and arrows of our 'abusers'. But frequently we are merely the interchangeable pawns of their own neurotic dramas. Anyone else in your position would have received the same treatment. There is nothing especially noxious or negatively noteworthy about you."
That makes sense, isn't it? Why must we get involved in some stranger's "neurotic drama"?
Life's negative experiences should train our mind to look for positivity in everything. Every failure is either a step towards perfection or a shift towards a new destination.
While strangers were discussing how 'ugly' and 'old' I looked after losing 30 kg weight, I was amazed at my will power and thinking about how I had overcome Asthma, High blood pressure and so many other health issues by reducing weight. This troll reminded me how good I felt from inside when I was exercising and eating well. It made me restart a strict regime, which somehow I had lost track of.
Karma takes care of everyone…
We are all human beings, full of emotions, which at times can be overwhelming. It's not our duty to judge or punish anyone. I believe in 'Karma' which is a great equalizer.
Our only duty is to love ourselves despite all odds. The troubles and struggles that we go through in our lives are our personal battles. No one can ever understand the 'whys and hows' of our decisions so why bother about what others think about us? 
This is your life and you have full right to love it. Keep doing so.