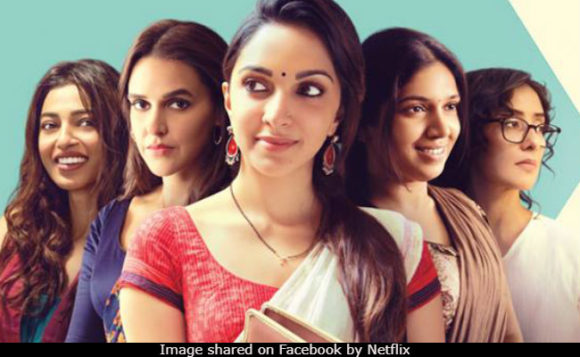 'Lust Stories', A Trial Of Sexual Desires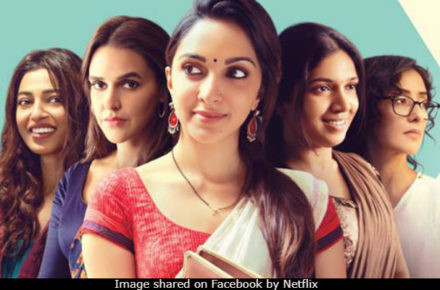 A boring summer afternoon led me to Netflix's 'Lust Stories', a four stories package, directed by Anurag Kashyap, Zoya Akhtar, Dibakar Banerjee and Karan Johar individually.
'Lust stories' is undoubtedly a bold comment on our carnal desires. All the four directors deal with the age old guilt attached to lust and infidelity in their own way.
Divided into four parts, 'Lust Stories' is all about the display of each director's handling of this sensitive topic.
Part 1 by Anurag Kashyap
As a story by itself there is hardly anything substantial in the first part. Kalindi (Radhika Apte) is as confused as any pseudo-intellectual. For her lusting is just an adventure. She is all the time justifying herself and making her sexual experience look like part of her so called exploration of honesty in dishonesty. Kalindi as an individual is fooling herself trying to live not a truth but a hypotheses about life and relationships.
She fears the repercussions of her sexual involvement with a much younger student. Sex with someone similar to her age doesn't interest her as there is nothing exciting in it. Despite her age Kalindi is an immature woman who cannot handle lust the way Mihir her husband handles it. That is the issue with her. She is not comfortable about what she is doing but wants to feel as natural as Mihir. She is afraid of getting exposed thus making a frustrating effort to play a safe game. Her shallow emotions are exposed when she finds the word 'fuck' more comforting than 'fornicate'. Lusting as an adventure also asks for a lot of maturity which Kalindi lacks. She is unknowingly looking for equality with Mihir, her partner and convincing herself about the worth of her flimsy sexual adventure under the garb of exploring life and feelings. When she can't take it anymore, she leaves.
Lust and sex is the biggest equalizer. This time it is the lust story of a housemaid and her master. Lust doesn't value emotions and can create smiles only in bed especially when it has socio-economic undertones.
Nothing very great about the predictable story line or it's treatment by Zoya Akhtar. Of course the only two things worth a mention are
Bhumi Pednekar as a maid struggling the highs and lows of emotions in her sexual relationship.
The symbolism of torn 'pure silk kurta with good embroidery'. The acceptance of the fact that howsoever beautiful it might make you feel, reality is that beauty of lustful relationship is just like the damaged and  torn kurta.
Part 3 by Dibakar Banerjee
Dibakar Banerjee is a gem and he proves that in his lust story too. Third story is about a mother (beautiful like the aged wine, Manisha Koirala) who wants to live her life with love but ends up fighting her guilt. The story is reality of the rich men and their social system.
Each character is natural and makes you feel for each one of them. Manisha Koirala as Reena is believable when she is torn between family, kids and herself. The dialogues are bang on, which would come to any mother in such conundrum.
"Sharm aati hai mujhe yaar. Bacche bhookhe hain … Main kya ban gayi hoon". (Kids are hungry and husband is spying, what have I become.")
There is a husband who is more interested in his business deals and can't afford any deviation at any cost. It's his realization that he is lacking something but what is it, he doesn't know.
"Meri biwi tere ghar mein kitni sundar dikhti hai? (My wife looks beautiful in your house.")
"Tum log cheezon ko open ended rakhte ho, mere liye ya black hai ya white. (You like keeping things open ended but I like black and white.") that makes him decide to take his wife back without spoiling his relationship with his friend. Salman, the husband (Sanjay Kapoor) makes Reena accept two things. One that the affair must stop and Sudhir, his friend (Jaideep Ahlawat) should never come to know about his knowledge about the relationship.
Reena the wife decides to tell everything clearly to both the men in her life. To the husband she tells,"Tum biwi nahi ma dhoondh rahe ho. (You are looking for mother not wife.)" and that it was a peaceful day when she decided to meet Sudhir.
Reena reminds Sudhir, that while in college he could never dare to look at her. If she is in a relationship with him, that is because she wanted to be there. Enough to make Sudhir feel thankful and obliged about the relationship.
She comes out a winner, feeling relieved that she no longer will have to accept 'allowances' that her husband offers her. The last shot of this most effective film speaks volumes with Reena smiling and moving on with life. Lust or infidelity doesn't require any reason to enter lives. It comes and goes while life carries on.
Part 4 by Karan Johar
The least said the better for the king of excess and his fake cinematic moments. Oh! he can make any normal thing look vulgarly abnormal. Doing justice to that, in his story a simple straight idea of a woman's dissatisfaction in her married life looks pretty loud and vulgar.
Mr Karan Johar, believe me, there was no need to make the whole topic look like a vulgar porn experience. There could have been subtle moments instead of the garish ones.
The only saving grace was the acceptance,"Jo hua woh galat nahi tha, jahan hua woh jagah galat thi. (whatever happened was not wrong, where it happened, thatplace was wrong)
The only intelligent thing in the story was finally Megha, rightfully asking for her wish to have icecream.
Anyhow, Karan Johar must avoid handling such sensitive topics in future, unless he is planning to introduce X rated films under his film banner.
The last word…
There surely is a loud message conveyed through 'Lust Stories'. Despite efforts to explore physical 
independence in every possible way
, something is always wrong with our lust stories.